// Emergency Communications
New Tech Makes Mass Notification Part of Bigger Security Picture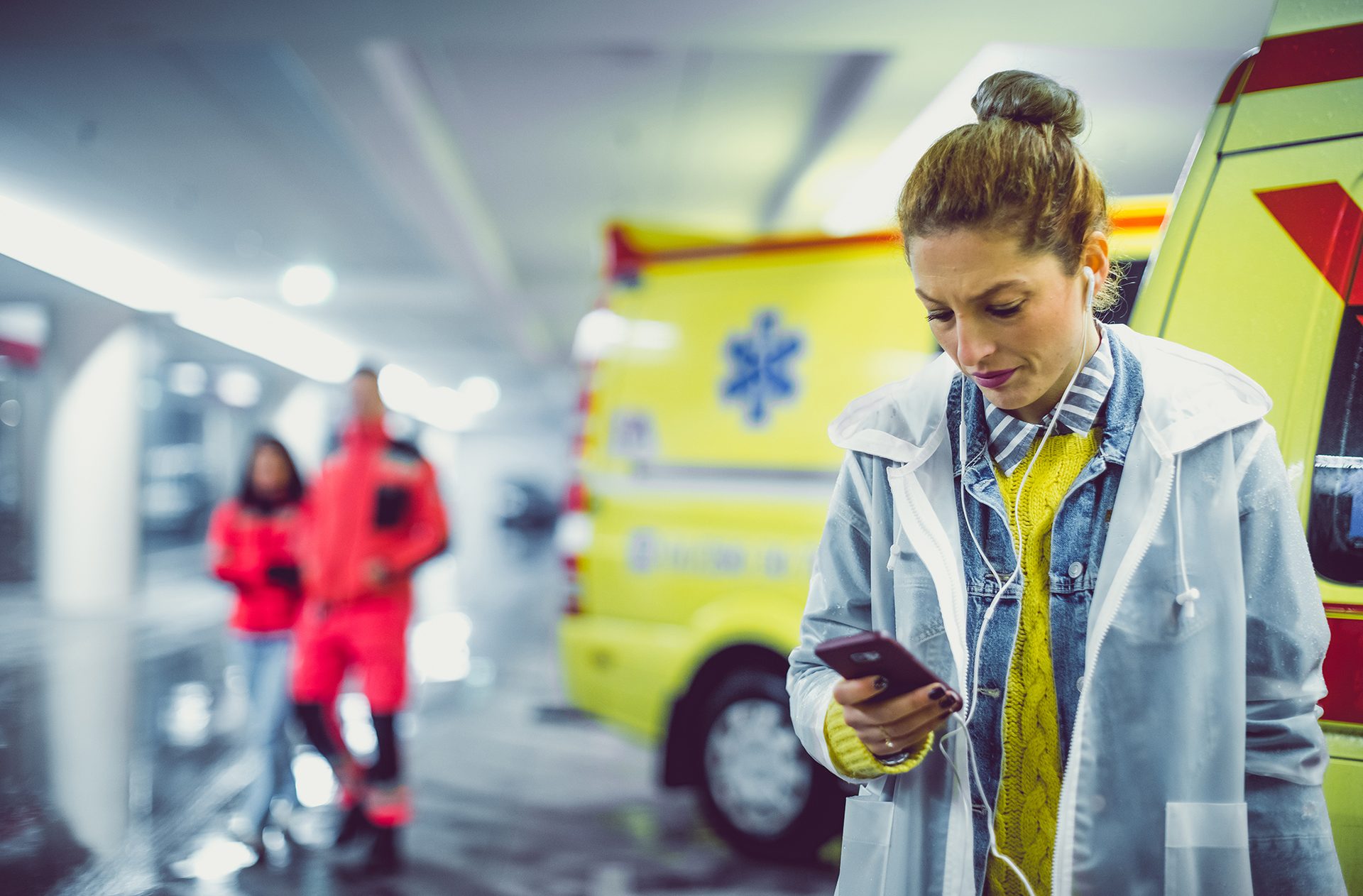 Incorporating IoT-based tools into mass notification and emergency communication systems enables delivery of real-time information to first responders, potentially improving their response times.
Sanjeri/E+ via Getty Images
Advances like digitization, IoT, AI and mobile devices put mass notification directly into users' hands, speeding up response times when emergencies arise.
By Laura Mazzuca Toops, SDM Content Editor
Digitalization, integration, artificial intelligence and other advances are enabling mass notification systems that are more fully integrated with end users' total security solutions, cutting down on event response time and creating new opportunities for security integrators, dealers and the manufacturers that supply them.
"Digitalization is making fully connected buildings a reality, bringing the most critical systems in the building online using the Internet of Things, cloud computing and mobile applications," says John Holba, portfolio leader for building communications products, Honeywell Building Technologies, Charlotte, N.C.
Incorporating IoT-based tools into mass notification and emergency communication systems provides many benefits — including delivering clear voice instructions, enabling remote maintenance checks, and providing first responders with real-time information to potentially improve their response times, he says.
Mobile data applications, for example, facilitate more emergency communication with the central station and emergency response teams, allowing facility managers and service technicians to connect remotely from anywhere to monitor and manage building systems via the cloud, Holba adds.
Integrating mass notification systems with mobile devices has been a game changer for the industry, says Greg Parker, vice president, innovation and portfolio management at Johnson Controls, Glendale, Wis. Building occupants receiving text notifications on their smart phones can react quickly to an emerging situation, and building managers can address threat notifications faster, even when offsite.
"Digital integration has played a huge role in advancing mass notification technology as it has enabled two-way communication in the response to an emergency situation," Parker adds. "There has been a shift to remote control and monitoring of buildings, and two-way communication between building managers and security professionals allows systems to not only recognize a threat, but then flag the concern to a building manager and give them the opportunity to choose how they want to respond depending on the situation."
Data communication protocols that enable interoperability between disparate systems — such as BACnet, common alerting protocol (CAP), and solution-specific application programming interfaces (APIs) — have been integral to these advances in mass notification, says Timm Weber, strategic accounts director at Edwards Safety, Bradenton, Fla. The use of IoT devices also contributes to the ability to leverage IP technologies to implement these systems. "Interoperability is getting the industry closer to a 'single pane of glass' solution, which allows people responsible for managing and responding to events to understand the incident more quickly and to make faster decisions on what actions to take," he says.
High-powered speakers remain an essential element of a successful mass notification system. Pictured is an Edwards HyperSpike high-power speaker array with 1.5 miles of omni-directional coverage to relay messages to personnel in any instance of emergency.
IMAGE COURTESY OF CONVERGINT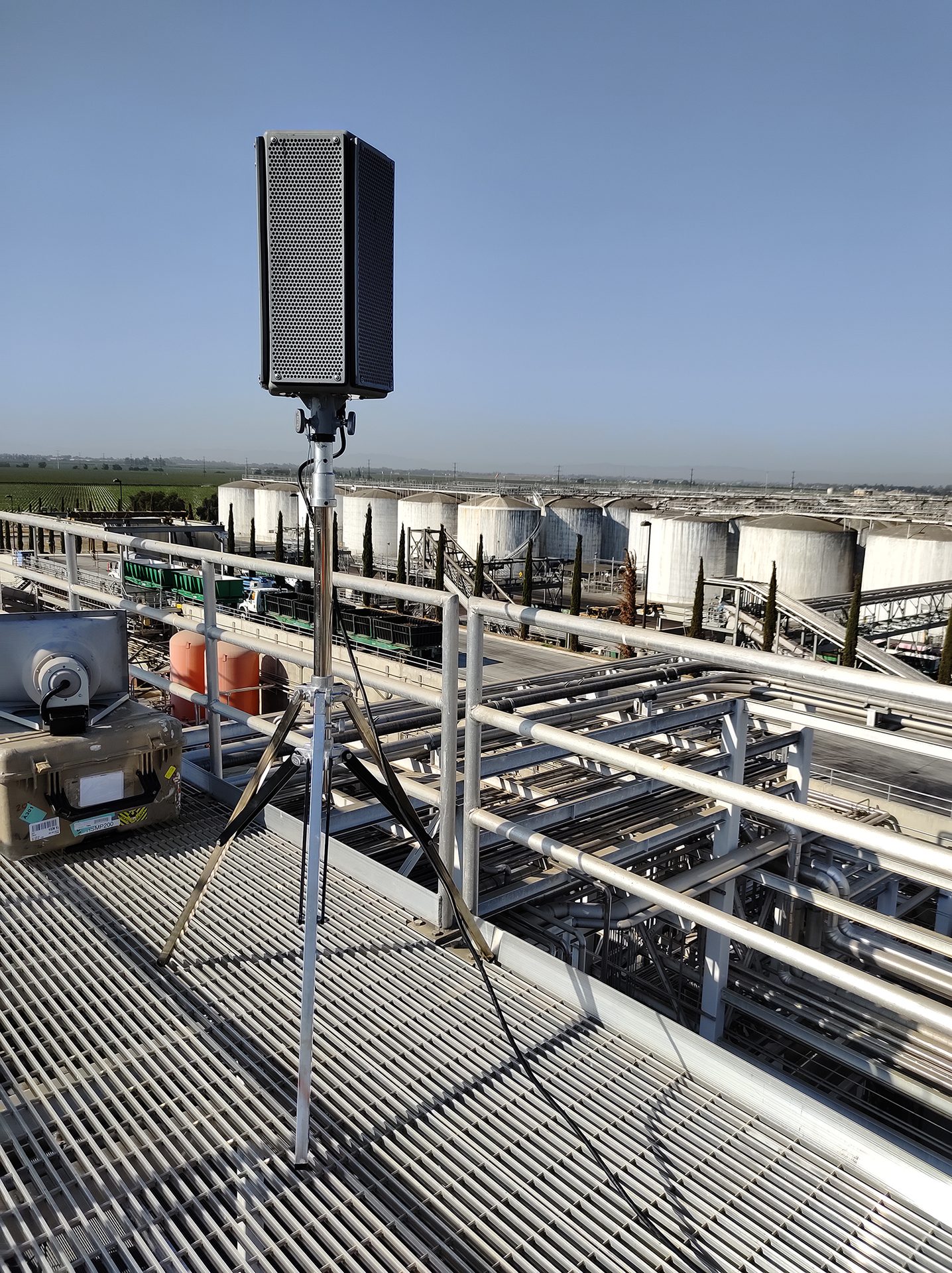 New Mass Notification Products
The security industry has continued to innovate when it comes to mass notification products that use the latest technologies. Here are a few of the latest developments from those interviewed for this article:
3xLOGIC has introduced a new gunshot detection sensor that can be integrated into any mass notification solution, says Bill Hobbs, vice president of global sales. The company's patented concussive wave technology ensures that a sensor alarm is triggered only by the presence of gunfire in the vicinity of the sensor. Once triggered, mass notification systems can be programmed to react with a series of automated responses including lockdown, quick notification of first responders with accurate location information, and notification of on-site responders that an incident is in progress.
Honeywell manufactures and sells a range of emergency communication technology that addresses both visual and voice communication needs, says John Holba, portfolio leader for building communications products. Honeywell's Unified Notification Platform (UNP) mass notification ecosystem leverages a variety of notification assets, from pre-recorded audio to one-way live broadcasting to two-way speakers to text or an image of sent messages. Users can conduct consistent, enterprise-wide, multi-layer communication for any need, including real-time and automated notifications for emergency alerts, mass notification, regularly scheduled announcements and facility-wide paging. Honeywell also offers a drop-in ceiling tile with speaker and strobe, which can be installed quickly with minimal disruption of existing infrastructure. "These devices help enable faster activation with rotary switches to select voltage and power settings and seven field-selectable candela settings for ceiling speaker strobes," he says.
The Talkaphone bAlert system enables communication methods including cell phones, smart watches, tablets, desktop computers, email, text message, social media, websites, CAP alert, and blue light emergency phone towers.
IMAGE COURTESY OF TALKAPHONE
Talkaphone recently launched bAlert, a highly layered mass notification system consisting of a cloud-based portal to receive emergency alerts and send mass notification messages, says Greg Sink, president and CEO. Communication methods include cell phones, smart watches, tablets, desktop computers, email, text message, social media, websites, CAP alert, and blue light emergency phone towers. First responders can send mass notification alerts to everyone, a group, or a geo-fenced area. The system can also collect critical information about a situation through collaboration between the emergency caller and the first responder. One patented feature is the capability of knowing the location of the panic alarm, which is especially critical when responding to an active shooter situation or trying to locate someone in a fire.
Zenitel's line of IP speakers can send safety and security messages and paging announcements to a large area or to specific zones within a facility, says CTO Thomas Haegh. All of Zenitel's critical communication solutions, including IP video intercoms and broadcast notification solutions, can be integrated into access control and VMS solutions, either via native integrations to well-known VMS platforms, or via open protocols. This enables faster response times and more information to first responders. Security teams can see and hear what's happening in a situation to be prepared and create the most effective response plan.
For integrators, installing these systems doesn't require reinventing the wheel: Protocols make it simple to integrate mass notification systems with an end user's existing infrastructure and communicate with other technologies from different providers, says Kevin Bell, national business development manager at Convergint, Schaumburg, Ill. "All customers have desktops and laptops; we can send 'take cover' messages on those, integrate into a two-way radio system, or even a Zoom meeting; if there's an active shooter situation, we can set up a Zoom meeting on how to address it," he says.
Ideally integrated systems roll up a combination of technologies, including artificial intelligence, access control, video cameras, automatic lockdown systems and shooter detection, providing the customer with a full range of protection, along with a variety of ways to communicate incidents these systems help identify. "The objective is to provide real-time information and instructions to people in and out of a building, site-wide or campus-wide, using voice and visible signals or graphics," Bell says. "While we service a large range of both stand-alone and integrated systems, we prefer to integrate."
Pandemic, Smart Devices Make an Impact
One of the biggest advances in mass notification has been the use of smart devices such as cell phones, smart watches and tablets, which put mass notification capability into everyone's hands, says Greg Sink, president and CEO, Talkaphone, Niles, Ill.
Combining mass notification systems and powerful camera images delivers faster response times. Pictured here is a Convergint-provided sound modeling image for a global wine manufacturing facility.
IMAGE COURTESY OF CONVERGINT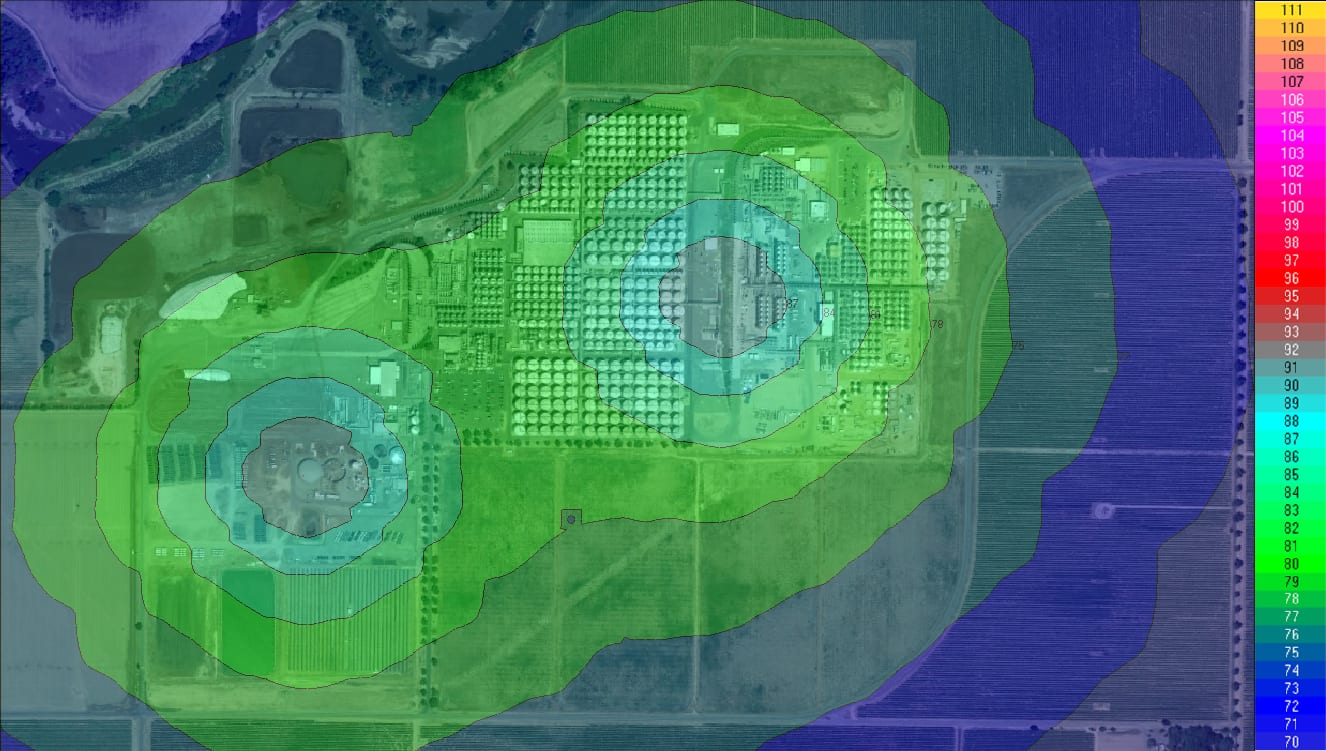 Traditionally, mass notification systems consisted of mechanical outdoor warning sirens which produced various tone signals to warn of an event or issue an all clear, Sink says. Later, electric outdoor warning sirens entered the market, adding voice communications to mass notifications. But while they were effective, these types of warning devices had their limitations — specifically, the problem of being able to hear them indoors during an event, or understanding voice communication messages.
Mass Notification Systems in Action
Kevin Bell of Convergint provides an eye-opening example of how a well-integrated mass notification system can avert disaster. A Convergint client — one of the largest hotels in downtown Atlanta, with 55 floors and no controlled entrances — experienced an incident where an individual came in off the street and began setting small fires throughout the hotel, going from floor to floor. Hotel security on foot couldn't find him. However, using the ESP mass notification and incident management system, with its graphic dashboard and hotel map, enabled them to track the perpetrator through a network of cameras as fire alarms were activated along his path.
In another example from 10 years ago, Convergint had just installed high-powered speakers at a college campus in Oklahoma when a tornado came through. Security activated the 'take cover' message through the mass notification system, which broadcast the message both inside the buildings and outside at various points on campus. "People who think they have a mass notification system when it's just indoors, it's not a complete system," Bell says. "People outdoors must also know if there is a tornado, shooter, or other event."
Today, with computers and smart devices, mass notifications can be sent in a variety of ways: text message, email, direct dial phone call, social media or through a dedicated app, Sink says. Mass notification systems can also receive panic alarms from cell phones, tablets, desktop computers, VoIP phones and wearable panic buttons for more discreet alerting. "Using smart devices also allows more intelligent warning," Sink says. "Instead of using tone signals, you can specifically identify the event and provide instructions on how to respond to keep people out of harm's way."
The global pandemic and shifts in the workplace have also impacted the mass notification market. Changes in physical perimeters and limited face-to-face contact for many commercial and educational campuses require contactless activation of security devices and the ability to remotely interact and communicate with individuals, says Thomas Haegh, chief technology officer at Zenitel, Kansas City, Mo. "This has led to more emergency communications solutions needing to provide granular zoning and targeted messaging to specific areas," he says. "From a holistic system perspective, this need for remote communication is compounded by a shift toward security-as-a-service models, meaning that many security control rooms are located off-site and managed over cloud-based infrastructure, with a convergence in subsystems that requires tight integration between previously stand-alone products."
The objective is to provide real-time information and instructions to people in and out of a building, site-wide or campus-wide, using voice and visible signals or graphics.
— Kevin Bell, Convergint
When a security event occurs, it's critical to have multiple methods in place to inform occupants of a situation in a building and to take a holistic view on building communications, Holba says. For example, Honeywell's Unified Notification Platform (UNP) allows fire and life safety professionals to leverage a variety of notification assets, from pre-recoded audio to one-way live broadcasting to two-way speakers, to text or an image of sent messages.
Another significant advance has been the integration of external sensors that provide early, accurate detection of events and enable end users to automate responses, says Bill Hobbs, vice president of global sales at 3xLOGIC, Fishers, Ind. And as additional inputs are brought into a mass notification system, the ability to generate automated responses reduces the response time and helps mitigate the damage from the incident.
For example, introducing a gunshot detection system into a mass notification solution can provide a near-instantaneous alarm of an active shooter event, along with accurate location information, Hobbs says. "Reliable gunshot detection sensors, when activated, can trigger automated responses such as lockdowns and early first responder notification in conjunction with the primary function of mass notification: getting reliable data to the people who may be affected by an incident so they react appropriately."
Top Elements of an Effective Mass Notification System
According to industry experts, these are the most important elements to include in an effective mass notification system:
An emergency response plan (ERP): An ERP derived from a thorough a comprehensive risk assessment is a must before any system installation, says Timm Weber of Edwards Safety. Once in place, training and regular drills on how to respond to incidents that might occur as defined in the ERP should be regularly implemented.
Buy-in from everyone: Involvement and buy-in from all stakeholders — internal and external (owners, operators, facilities, installers, project managers, finance, support, IT, system designers, manufacturers — is critical for success, Weber adds.
Integration with all available resources: Kevin Bell of Convergint likes to utilize technologies that "play well together" and selects partners based on this. Top partners include LenelS2, InformaCast, AtlasIED, Edward Systems Technology, Milestone Systems and Axis Communications, he says. Working with open architecture partners enables users to maximize scalability, create compatibility and enable diversity within the ecosystem, adds John Holba of Honeywell.
A customized system tailored to the site: Because every setting is unique, each building needs different system features and functionalities, Holba says. Customization should play a core role in all security strategies, with solutions that can evolve alongside customer expectations, adds Greg Parker of Johnson Controls.
Automation: This is critical to mass notification systems because building managers can't be constantly monitoring their security solutions for a possible threat, Parker says. "A good system will automatically alert key stakeholders and give them the option of how to respond, and then automatically trigger that response so the building managers can use their time more efficiently but also respond quickly in an emergency situation."
Scalability: End users need a solution that is scalable enough to accommodate the immediate needs/wants/musts of a facility while affording for growth and expansion of both equipment and functionality, Weber adds.
A system that's usable in any environment: "End users will want a solution that is designed for both indoor and outdoor use, with IP66 ratings that offer protection from particulate and moisture ingress," says Thomas Haegh of Zenitel.
How Integrators Can Benefit
For security dealers and integrators, advances in mass notification mean more opportunities to provide customers with a well-rounded security system. However, there are caveats, say the experts.
"The term 'mass notification' is overused by manufacturers; whether it's software or hardware, if they have a feature where they can send a message, they call it that. But it's not completely correct unless it's a layered approach," says Bell of Convergint. As a result, "Customers can tune out because they think they can already send out a text message. I encourage my colleagues to refer to it as an 'integrated emergency communications system,' integrated with their existing system. This gets their attention."
Sink of Talkaphone agrees on the importance of taking the layered approach by using multiple products to make sure the customer is completely covered. "One of the most common mistakes integrators make is relying on only one type of solution for mass notification when a more layered solution would address and solve multiple problems," he says. "For instance, there may be more optimal solutions for addressing safety concerns outdoors versus indoors, with different types of safety communication devices that are stationary, such as sirens or paging systems, or mobile, like cell phones, smart watches, tablets, email, text messages, social media, and website alerts."
The first step in developing a plan lies in understanding the client's needs, Sink says. "Meeting with several key members cross-departmentally to understand their safety concerns is crucial to coming up with an effective, cohesive solution."
Integrators are accustomed to having specifications, plans and sequences of operation clearly defined for projects such as life safety solutions, says Weber of Edwards. Often, mass and emergency communication systems differ because requirements are dictated by a specific facility based on its own emergency response plan. "The more clearly a facility knows what it wants to accomplish and how it intends for the solution to work, the more straightforward the process becomes for integrators," he says. "Conversely, and as is often the case, if a facility does not have an accepted and adopted ERP (emergency response plan) to provide clarity, knowing what solutions to provide and how the systems need to work can lead to conflict and confusion."
Convergint colleague Kevin L. Bell sets up a live test of the HyperSpike 1600-watt high-powered speaker array, as part of a global wine manufacturer's emergency communication ecosystem.
IMAGE COURTESY OF CONVERGINT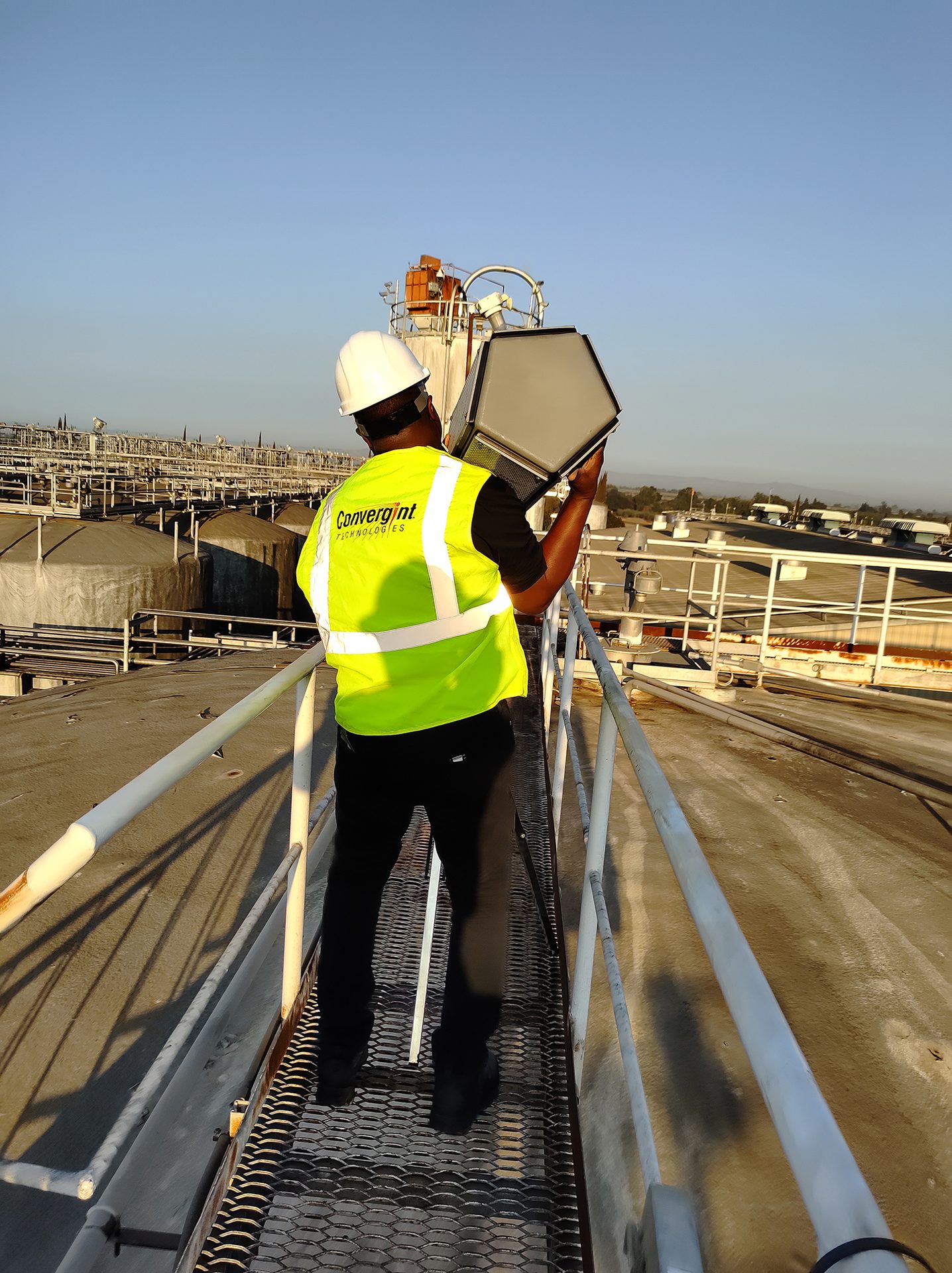 The next step is to ensure proper coverage within a building and property, says Holba of Honeywell. Because every building is different, and the way people interact with that building also differs, engineers, designers and building managers need to develop a plan that provides multiple opportunities for communication. For instance, high ambient noise environments like factories or athletic fields require high-powered speakers with special acoustic designs to deliver high-fidelity voice messages over long distances.
"Unfortunately, there can often be a disconnect between integrators and engineers, as different responsibilities fall under each role," Holba says. "For example, I've seen integrators have responsibility for the voice quality of a notification system when that responsibility should fall within the engineer's scope of work. The engineer should be in charge of laying out the system and recommending the number and placement of speakers for optimal intelligibility. As an industry, we need to continue to educate designers and engineers to specify an optimal notification system so that integrators can provide an accurate quote and realistic installation deadlines."
To prevent this, Holba recommends spending more time on the front end of the development of a mass notification system: "Fully thinking through the design, how occupants interact with the building, and how factors like carpet versus tile could impact the quality of sound," he says. "These voice systems can be tricky, as there are a lot of variables. Spending the time upfront to consider design and environmental factors is extremely helpful because once you deploy the solution in the field and test the installed system, changes can be very costly." SDM